At Pro Flow Technologies, we're committed to providing the best possible customer service. We are small enough to care about every one of our customers, yet large enough to cope with urgent work.

Pro Flow Performance Fuel Injection Technologies
You can be sure that the greatest of care is taken in the service of your fuel injectors, and you can be assured of a fair price. Our team of qualified technicians undertakes training, ensuring we are up-to-date with new technology. Our vast range of skills enables us to provide accurate diagnosis, service and repairs on all injectors. We use only the highest quality care and our specialist diagnostic services are carried out using state-of-the-art ASNU equipment.
The Future
Being a small dedicated team we can offer a personal one-to-one service that we believe is a fundamental part of our business success. With the electronic control systems on new vehicles becoming more and more complicated, we are constantly looking to improve our capabilities to offer our customers the best service possible. We also believe that the ever growing market for performance modifications will continue, and that we will be able to offer new and existing customers a local solution to their performance and motorsport tuning needs.
The Owners
Jim Scala
Jim has been working around cars and bikes for over 33 years, and has been a full time technician since he was 16 years old. Jim started his career with Toyota, and worked for 14 years achieving the level of master technician. Jim has been an ASE Certified Master Technician for the past 23 years. After leaving Toyota, Jim opened his own Auto Repair shop and for the past 10 years has included motorcycle, sprint car repair and performance engine building. Jim brings a high level of mechanical expertise to ProFlow, ensuring your work will be done right.
Greg Melka
Greg has been a motorcycle and car buff since childhood. He was always tinkering with one or more motorcycles in the garage behind his parent's house. Soon the bikes and fast cars got him into trouble in the small Midwest town of LeRoy, IL., where he grew up. In his teens Greg found an outlet racing motocross, but left that behind, moving to Florida to attend the University of South Florida. After graduating with a business degree, Greg launched a successful career in real estate.
The bike bug bit him again when he turned 35 and he purchased his first street sport bike. From there he began regularly attending track-days at Florida's Jennings GP racetrack as a hobby. The next step was club racing. Over the past 9 years, Greg has gone on to race in national level races, and win 32 regional class championships, finishing in the top 6 in overall points each season. Greg also started competing in off-road hare scrambles in the "A" class with Florida Trail Riders, finishing 2nd in the overall points in his first full season on a Honda crf450r.
The motorcycle shop that Jim Scala owned and operated sponsored Greg and was an integral part of his success. The two have known and worked together for the past 9 years. Greg is well respected in the motorcycle racing community as not only a good racer, but for being fair and considerate on and off the track. His mechanical know how and sense of fair business practice ensure your experience with ProFlow will be a good one.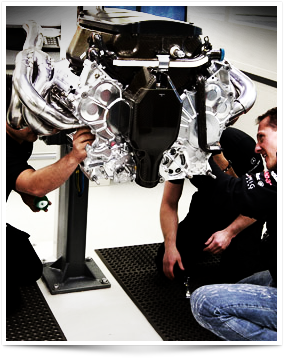 Engine Builders*
Insist your customers have their fuel injectors serviced before they install your fresh motor. Why risk a cylinder running lean and damaging a motor (making you look bad).
Call ProFlow today to find out more: 727-992-0435