To get started, please follow these 3 steps below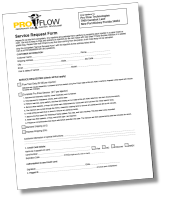 1. Download the Service Request Form – we only ship to lower 48 states in USA

Please print and fill out this form completely. You must include billing info, either credit card or paypal.
WITHOUT IT WE CAN NOT PROCESS YOUR ORDER. IT MUST BE LEGIBLE. If we can't read it, we don't ship it!
Click here to download Service Request Form
2. Choose Service
We offer 2 services at Pro Flow Technologies
A. Flow Test Only (as low as $7.00 per injector*)
Injectors are visually inspected, numbered and flow tested using Pro Flows state-of-the-art ASNU machine.

Prepare a test report with results. (No parts are changed)
B. Complete Pro Flow Service (as low as $19.00 for top feed injectors, and as low as $24.00 for side feed injectors*)
Injectors are externally cleaned, visual inspected, and numbered.
Test injectors for resistance, shorts, and current draw.

Perform leak test, spray pattern, and flow rate testing on our state-of-the-art ASNU Machine. We then record the results.

Remove filter baskets, o-rings, and pintle caps. Bead-blast the metal injector body.

The injectors are cycled through the ASNU ultrasonic cleaning tank to remove any particles and dirt for 45 minutes.

A high pressure back-flush is done to remove any particles inside.

Back to the flow bench for retesting of spray pattern, flow rate, and leak checking. This test data is also recorded

Install new filter baskets, o-rings,  pintle caps (

as required, additional cost applies)

Prepare a comprehensive test report with before and after test data. The injectors are then packed along with the old parts for return.
3. Package and Ship your Injectors

Dry injectors and package them carefully by wrapping each injector in a paper towel or cloth.  Be sure to leave the o-rings and spacers ON the injectors so we can match with new ones. Finally enclose injectors in a sealed plastic bag. Please note that if there is any fuel odor coming from the parcel, it will most likely not be delivered. Also be aware there will be ADDITIONAL CHARGES for exceptionally dirty injectors (dirty on the outside) so please take a moment to clean off excess dirt and grime from your injectors before shipping them.
Send the completed "Service Request Form" with the injectors to the address listed below.
Pro Flow Technologies
7909 Gunshot Lane
New Port Richey Florida 34654
Call us at (727) 992-0435 with any questions.
* Pricing includes most injectors. Please call for specialty item pricing. Additional cost could apply for especially dirty or problematic injectors that require additional cleaning-we will call you.